Blue Star Cadets: Latest Headlines

HELP Blue Star Cadets Youth Band GET FREE MERCHANDISE!


Mar 15, 2006 11:11 AM (Submitted by: Denise Pagonis)

Campbell's Labels For Education™ Program Awards Free Educational Equipment

Over the past 32 years, Campbell's Labels for Education program has delivered over $105 million in free merchandise to schools nationwide. To kick-off this year's label collection drive, Blue Star Cadets Youth Band School is asking parents, members, alumni and friends in the community to collect Campbell product labels that can be redeemed for free educational merchandise.




Blue Star Cadets Announce On-line Magazine Fund-raiser


Mar 20, 2006 9:59 AM (Submitted by: Denise Pagonis)

You can help Blue Star Cadets raise funds by subscribing or renewing your subscription to your favorite magazines. 40% of each purchase comes back to the Blue Star Cadets!

* Over 650 magazine titles at up to 85% off the newsstand prices
* Buy online 24 hours a day, 7 days a week , its so easy

If you have not already done so, I hope that you will take a few minutes of your time to help support our cause. Just click here to go to our online magazine store and help support the Blue Star Cadets!




Kwik Trip "Milk Moola" Fundraiser


Oct 11, 2003 2:29 PM (Submitted by: Denise Pagonis)

The Blue Star Cadets are participating in the Milk Moola fundraiser through Kwik Trip (or Kwik Star) gas stations. Please keep your milk caps and milk bags from Kwik Trip and submit them to:

Blue Star Cadets
P.O. Box 2523
La Crosse, WI 54602

or email Denise Pagonis for more information.

The Blue Star Cadets will receive 5 cents for each milk cap or bag collected. For more information about the Blue Star Cadets, see www.bluestarcadets.org




Blue Stars Seek Director of Development


Nov 19, 2013 3:45 PM (Submitted by: Brad Furlano)

Blue Stars, Performing Arts for Youth, Inc., is seeking candidates for the position of Director of Development. Reporting to and in partnership with the Executive Director (ED), the Director of Development (Director) will spearhead fundraising, community outreach, and event efforts for the organization. As a new role and position, this person will have the opportunity to build and shape the systems and processes necessary for short and long-term success.




© 1998 - 2013 Blue Stars Drum & Bugle Corps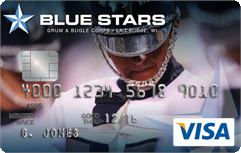 Get a Blue Stars Visa
and after you use the card for the first time, the Blue Stars get $50!